The Pumpkin Patch
Walk through our Haunted Train Car
Just as Cinderella's fairy godmother magically turned a pumpkin into a horse-drawn carriage, so will we transform our historic rail cars into Grand Canyon Railway's Pumpkin Patch Train. And just like Cinderella, you're encouraged to dress up for the great pumpkin event!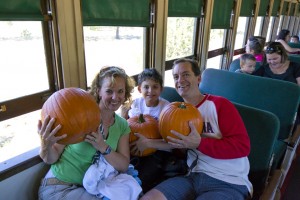 Kids and parents alike are invited to don their favorite Halloween costumes and come join us this fall for a fairy-tale ride through the countryside to a secret pumpkin patch, accessible only by train. Pick a special pumpkin of your choosing and then decorate it back at the Williams Depot.
Walk through our Haunted Train Car (if you dare!), and enjoy hot apple cider, pumpkin pie, crafts, coloring, a hay bale maze and more. All aboard the Pumpkin Patch Train—there's no better way to celebrate the fall in beautiful Northern Arizona!
When: October 5 & 6, 12 & 13, 19 & 20 and 26 & 27 – Departing Williams at 11:00am, 1:00pm and 3:00pm
How Much: Adults are $20 and Children, age 2 – 15 are $15
What's Included in the Price: The train ride from Williams Depot to the pumpkin patch as well as one pumpkin per child are included in the ticket price. The train will de-board passengers at the pumpkin patch where guests will have between 30 and 45 minutes to pick out that special pumpkin. There will also be a free hay bale maze, coloring and crafts at the Williams Depot.
Pumpkin pie, caramel apples, hot apple cider and hot chocolate will also be available at an additional cost.
TICKETS WILL BE AVAILABLE AT THE WILLIAMS DEPOT
Advance reservations coming soon!