Railway Pet Resort
Grand Canyon Railway's state-of-the-art Pet Resort has 28 spacious rooms for dogs, and 16 comfortable custom-made condos for cats. It offers the safest, most comfortable, secure and modern environment in the Williams area, while our caring staff ensures your furry friend will have a great vacation.
When checking in your pets to the Pet Resort, please allow extra time the morning of your train departure. We recommend checking them in by 8:00 a.m. (8:30 a.m. during winter) to ensure enough time for you to board the train. The Pet Resort is available to guests of both the RV Park and Grand Canyon Railway Hotel, as well as Grand Canyon Railway passengers and the general public.
BREATHE EASY
Both dogs and cats are kept cool and comfortable, with separate central air conditioning and evaporative air-cooling systems during the summer months, and heat in the cooler Northern Arizona winter months. That's right—separate state-of-the-art air systems—because we all know how dogs and cats think of the others' scent! This may be the cleanest air in Northern Arizona, which is already known to have some of the cleanest air in the nation.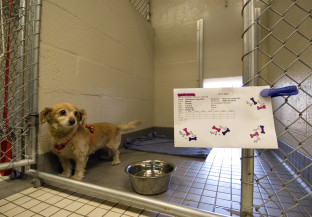 IT'S A DOG'S LIFE
Our canine friends enjoy their own private indoor/outdoor space, with standard size runs 4′ x 4′ on the inside and 4′ x 10′ on the outside. For bigger dogs, there are four extra-large runs that measure 6′ x 4′ on the inside and 6′ x 10′ on the outside. All outdoor runs are covered for your dog's contentment, and our canine guests also enjoy individual playtime in the exercise yard during their stay with us.
ATTUNED TO YOUR PET'S NEEDS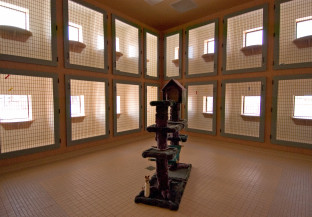 Our Pet Resort has soft background music playing for your pet's enjoyment. And to make their stay even more comfortable, we encourage you to bring your pet's favorites: food, snacks, beds, bowls, bones, chewing items, and toys.
ROOM WITH A VIEW
Each cat condo is custom-made and has a sitting ledge. The cattery looks out to the basketball and volleyball courts: built-in entertainment! And there are plenty of windows to let in natural sunlight, making it the perfect setting for—you guessed it—a catnap.