All Aboard for The Ultimate Polar Express Experience
Discover The Ultimate Polar Express Experience aboard your own private train car to the North Pole! Ride in our exclusive, first-class historic train cars – it's like a living room on the rails.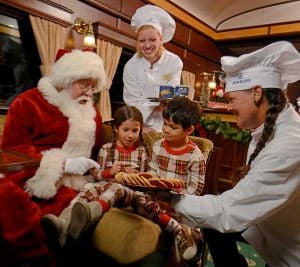 Travel with your family and friends to the North Pole and we'll bring the classic book and movie to life. Your private chef will lead Christmas carols and share treats like cookies and hot chocolate. Parents can enjoy refreshments from a private bar. Then, Santa Claus will board the train, present each child the signature Polar Express bell, and spend the whole journey back from the North Pole with you to ring in the season. Imagine opening presents on the train with Santa where your kids will have an extraordinary night they'll remember forever.
Guests receive a commemorative bell, mug, gift bag, and other special gifts from Santa. Custom catering and full bar service available upon request; credit card payments only – contact our V.I.P. Rail Concierge for details and pricing at 928-635-5700. Prices start at $8,000 for this private charter experience.