Steam Saturdays
Our Steam Locomotives Pull the Train on the First Saturday: March through October 2018
The Grand Canyon Railway celebrates the history of rail travel with several steam-powered excursions to Grand Canyon National Park each year. An operational steam locomotive can be a rare sight in the 21st Century, which is why we keep two fully-restored vintage steam locomotives in service to pull The Train on select dates throughout the year. Check the calendar to the left to see which dates will feature either GCR No. 29 or GCR No. 4960 out in front of The Train.
2017 Arizona Governor's Award Winners!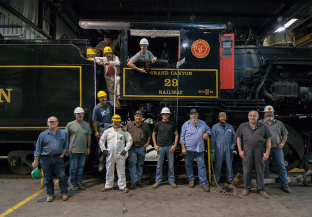 Grand Canyon Railway is pleased to be the recipient of the 2017 Arizona Governor's Award for Outstanding Historical and Cultural Preservation, honoring our 2016 project to restore historic steam locomotive No. 29. This award is presented annually to the individual, organization, or community that has made the most significant contribution toward the cultural and/or historic preservation of some aspect of the natural, cultural, or aesthetic legacy of Arizona to inspire domestic or international visitation to the state. Locomotives like No. 29 pulled the trains that brought the first travelers en masse to Arizona and our jewel in the National Park crown – Grand Canyon. By operating our two steam locomotives, we give today's rail passengers a glimpse into the rich history of Arizona tourism. Thank you to the Arizona Office of Tourism for your recognition of our efforts!
Meet our Steam Locomotives!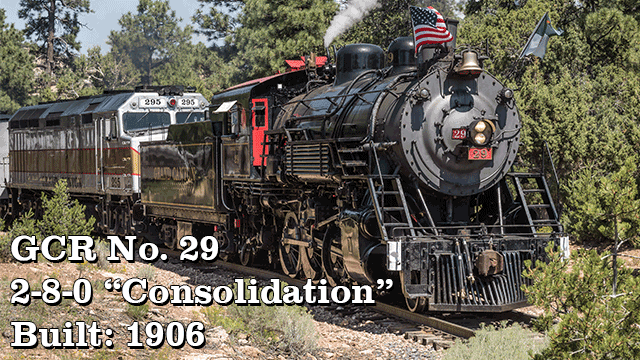 Steam locomotive No. 29 was built in 1906 by the American Locomotive Company in Lima, Ohio to haul iron ore trains on the Lake Superior & Ishpeming Railroad in Michigan's Upper Peninsula. Retired from the LS&I RR in 1960, it was sold to the scenic Marquette & Huron Mountain Railroad but was never used. Grand Canyon Railway purchased No. 29 when the line was reborn in 1989 and it entered service on the Grand Canyon line in 1990, operating until 1995. No. 29 saw service again from 2004 to 2008 after a complete overhaul. From 2008 to 2016, it enjoyed a semi-retirement as a static display locomotive, first greeting our passengers arriving to the platform in Williams, later on display in front of the historic Grand Canyon Depot at the South Rim.
In 2016, Grand Canyon Railway undertook the major project of bringing No. 29 back to life to help celebrate the National Park Service's Centennial Anniversary, and it returned to the rails for the first time in 8 years on August 24, 2016 pulling the round-trip train to and from Grand Canyon National Park. Later that week, No. 29 paired up with sister locomotive No. 4960 for the first steam double-header to Grand Canyon since 2012. In 2017, you will see No. 29 share time with No. 4960 on our Steam Saturday trips, as well as at special events like Williams Train Day.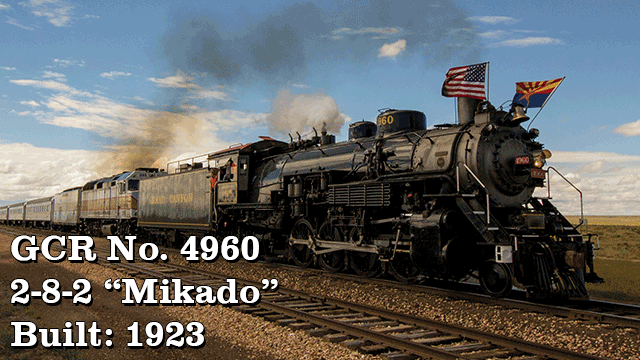 Steam Locomotive No. 4960 was built in 1923 by the Baldwin Locomotive Works in Philadelphia, Pennsylvania and saw service on the Chicago, Burlington & Quincy Railroad hauling iron ore and other freight throughout the American Mid-West. Retired from CB&Q RR in 1960, it pulled excursion trains, museum trains, and circus trains throughout Wisconsin and other mid-western States until the early 1970's when it was put on static display. Purchased by Grand Canyon Railway in 1989, in 1996 No. 4960 underwent one of the most extensive locomotive rebuilding and restoration projects in modern history, converting it from a coal-burner to burn diesel as fuel. Further modifications were made to it in 2009, as GCR converted it to run on recycled Waste Vegetable Oil. Since 2009, No. 4960 has served as the backbone of our steam fleet, powering all of our steam excursions and round-trip trains to Grand Canyon. Due to its popularity, No. 4960 has taken its place as an icon among operational steam locomotives in the United States.
Celebrating the Park Service Centennial in Style!
On Saturday August 27, 2016 Grand Canyon Railway staged a special event that drew passengers and curious onlookers from all over the United States. A steam double-header featuring No. 29 and No. 4960 pulled the Williams Flyer round-trip from Williams to Grand Canyon, with no Diesel locomotive in the consist. Our company photographer was one of the many on hand to document this extremely rare event!

Steam Locomotives in the 21st Century!
For years Grand Canyon Railway operated steam locomotives from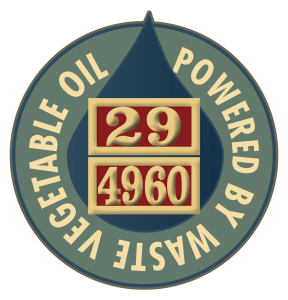 Memorial Day to Labor Day, but in 2008 we discontinued regular runs because of environmental considerations. Operating an all-diesel fleet of locomotives year-round saves a considerable amount of fuel and manpower, and reduces greenhouse gas emissions and air pollutants associated with steam locomotives. In 2009, we came up with the idea to burn nearly carbon-neutral waste vegetable oil as fuel to keep No. 4960 and eventually No. 29 on the rails regularly.

The Grand Canyon Railway recently became the first tourist railway in the United States to receive ISO 14001 third-party certification of its environmental management system (EMS) after a two-year process involving complete review, development and implementation of environmental initiatives in all of its operations.