True Confessions: A Grand Canyon Railway Engineer Tells All
Since the terrain isn't flat, this is a difficult railroad to operate. There are a lot of ups and downs — like a roller coaster — so you don't just open the throttle and sit back.
Only a small percentage of us grow up to do what we wanted to do as kids, which explains why you don't see a surplus of astronauts, ballerinas, and football
players. Some of us, though, enjoy the good fortune to follow that childhood dream to a place where that dream comes true.
That's what happened with Eric Hadder, 44, who has the enviable position of chief mechanical officer of the Grand Canyon Railway's trains. Eric also still operates both steam and diesel locomotives today. Here, Hadder describes his job and what happens behind the scenes as passengers enjoy one of the most spectacular and scenic lines in America.
Q: What led you to Grand Canyon Railway?
A: I've been interested in trains ever since I was a kid. Back in 1999 I was hired on with Grand Canyon Railway not as a locomotive engineer but as a hostler-helper. That means when the train would return from Grand Canyon in the evening, you'd take it to the wye, turn it around, add fuel and water, service it, and get it ready to go for the next run in the morning. Meanwhile, there were others who were cleaning cars, dumping the waste tanks, refilling the fresh water, changing the brake shoes, and everything else that needed to be done.
From there, the next progression was working on the mechanical side.
Q: What makes Grand Canyon Railway different from other lines in America?
A: We take people to Grand Canyon, so the number one reason is the destination. It's kind of like traveling back in time to a place that is historic and geologically significant. That makes us unique.
The second major difference is the distance we travel. I can't think of another tourist railroad that runs as far as we do and so frequently — every single day. It's 64 miles each way to Grand Canyon National Park; nearly 130 miles round trip and at speeds up to 40 mph. That may sound slow, but for a tourist passenger train that's in the upper tier.
Q: After thousands of round trips, are you still in awe of the landscape as you ride to and from Grand Canyon?
A: What I like to see is how the landscape changes with the seasons and the weather; it's not the same every day. But, to be honest, there are a lot of wide-open spaces that tend to get old to me. But then I'll travel to a place where there are road signs and strip malls and traffic and trees that block your view. In those places you have no idea what's out there just one mile away… or 10 or 30 or even 100 miles away. That's when I realize I can't take this Arizona scenery for granted.
When passengers travel with us, those wide-open spaces have to be pretty inspiring. They reveal just how much you can see from the window of the train.
Q: What is happening in the cab as you're making the trip?
A: Since the terrain isn't flat, this is a difficult railroad to operate. There are a lot of ups and downs — like a roller coaster — so you don't just open the throttle and sit back. You go up a hill and then you go down. You have to keep in mind your train is like a big spring running in and out, so you have to work your throttle and the brakes perfectly to keep things smooth, otherwise the passengers will feel it.
And when we're working the steam engine, there's a fine line between too much and too little water — downhill it can slosh to the front and uphill slosh to the back again, so you have to keep an eye on that. There can also be obstructions on the track. Cattle are a concern, animals can wander into your path, or a car may cut across the road in front of you or rocks could fall out of a cut or a tree can drop across the tracks… You're always aware of what's happening.
Q: What is your favorite stretch of the trip?
A: The last 20 miles coming home to Williams. That's when you stop and pick up the "cowboys" for the (fake) robbery. After that you're climbing your way back to town; ups and downs so the engines may be at full throttle or you may make it over a grade so you back out of the throttle as you go downhill and around corners before you pick up speed as you parallel the highway. By the time you pull into town, people know you're coming. They're waiting along the road and the track and at the platform to see you come in.
Q: What will people see on the journey?
A: Since we change 1,500 feet in elevation, we see a lot of variety and scenery — from pines to the high desert to the pines again. Wildlife like bear and deer are fairly common and recently another engineer told me he saw a mountain lion.
On the horizon you can see the San Francisco Peaks, which includes Humphreys Peak, Arizona's highest point. It's 12,633 feet high. Along some spots you can even see the North Rim of Grand Canyon, which is a thousand feet higher than the South Rim.
We don't get a lot of fall foliage colors, but you'll see purple and yellow wildflowers in the summer and in winter sometimes a frosting of snow near Williams and Grand Canyon.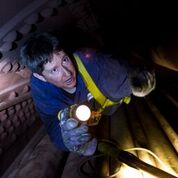 Q: What is your favorite part of the job?
A: The people. We are a passenger railroad and often many of the passengers are doing something that's on their bucket list. I don't always have direct interaction with guests like the conductors and cowboys do, but when they disembark at the depots I can see them smiling and I'm especially happy to see little kids who may be taking their very first train ride. That's one of the most satisfying parts of my day.
Q: Are you the focus of a lot of pictures?
A: Well, the conductors get the most publicity since they're with the guests for a few hours at a time. But when we get to the station at Grand Canyon, people definitely know we're coming and will come down to the depot. They'll flock around the train to take pictures and come up by the engine to look at it. Even if they don't speak English, they'll give me a thumb's up.
Everyone loves trains.
How to Explore
There's no better way to make a grand trip grander than on the historic train to Grand Canyon. Travel over 120 round-trip miles through beautiful northern Arizona while being entertained by historical cowboy characters and strolling musicians. The Grand Canyon Railway has been departing daily from Williams, Ariz., since 1901. Spend a night in Williams next door to the train depot at the AAA Three Diamond Grand Canyon Railway Hotel. Just walking distance from quaint downtown Williams and Route 66, the modern hotel has a grand lobby, indoor pool and hot tub as well as Spenser's Pub with its handcrafted 19th-century bar. Packages with train travel and overnight stays in Grand Canyon National Park and Williams are available. Visit TheTrain.com for more information.
For more travel experiences to Beautiful Places on Earth™ available from Xanterra Travel Collection® and its affiliated properties, visit xanterra.com/explore.
---