5 Best Day Trips from Williams, AZ
From Native American history and Southwestern culture to animal watching and brewpub hopping

Considered the gateway to the Grand Canyon South Rim — just 60 miles away — and home to the Grand Canyon Railway and Hotel, Williams, Ariz., makes an ideal base from which to explore not only the canyon, but also other area highlights.
If you're based in Williams, here are five fun day trips to enrich your visit.
Get Your Kicks on Route 66
The stretch of the Mother Road that composes Williams' main drag was also the last part of the route to be decommissioned (on Oct. 13, 1984). And while many of the 401 miles of Route 66 that once ran across northern Arizona have been eclipsed by Interstate 40, some stretches are surprisingly intact.
Just 18 miles west of Williams, the town of Ash Fork sports the small Route 66 Museum with memorabilia and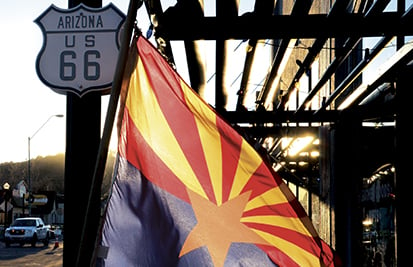 artifacts from the road's glory days. Continuing west, check out the roadside architecture in tiny Seligman, including the whimsical Delgadillo's Snow Cap Drive-In, with its "Sorry, we're open" neon sign. Grand Canyon Caverns, 66 miles west of Williams near Peach Springs, offer cave tours and spelunking adventures. The Hackberry General Store, 93 miles west of Williams, sports a vintage 1957 red Corvette outside. Inside, it's bursting with Route 66 memorabilia and features a vintage diner where you can order Route 66 beer (actually, root beer).
Go Where the Wild Things Are
While technically within Williams, a visit to Bearizona Wildlife Park is well worth planning a day around. The woodsy drive-through park is home to bears, bison, wolves, and other North American critters. Visitors can self-drive the route or join a bus tour with an expert guide.
The facility also features a 20-acre walking area, home to otters, beaver, porcupines, and more. Programs include animal "meet-n-greets," participatory animal feedings, and birds of prey shows.
Experience Old West History Among the Pines
Flagstaff, population 67,000, is a bustling college town just 35 miles east of Williams. Sitting at an elevation of 7,000 feet, it's surrounded by ponderosa pine forests. With its mountain scenery, Southwestern culture, and easy access to outdoor activities, it was recently named the No. 1 college town with great quality of life by BestChoiceSchools.com. Its well-preserved downtown boasts a blend of Old West, Native American, and railroad history evident in locally owned shops, restaurants, and galleries. Don't miss the Museum of Northern Arizona, with its excellent collection of Native American artifacts.
Walk In the Footsteps of the Ancients
Wupatki National Monument, 79 miles northeast of Williams, allows a fascinating peek into life among ancient Pueblo peoples who occupied the stone structures from as early as 500 A.D. until its abandonment in 1225. Ten miles southeast of downtown Flagstaff at Walnut Canyon National Monument, hike among ancient cliff dwellings within the red rock canyon.
Take a Stroll Down Whiskey Row
Prescott, a former ranching town 68 miles south of Williams, is a throwback to another era. Its stately elm-shaded courthouse plaza is the setting for frequent community events, such as weekend concerts. The 19th-century saloons of nearby Whiskey Row are evidence of its rough-and-wooly past. One-of-a-kind shops sell locally made art and other items. And restaurants and brewpubs abound. A bonus: Route 89 leading south to Prescott is a gorgeous drive.
For information about the Grand Canyon Railway & Hotel, visit thetrain.com or call 800-THE-TRAIN (843-8724).
For more travel experiences available from Xanterra Parks & Resorts and its affiliated properties, visit xanterra.com/explore.
Written by: Jayne Clark
Washington, DC-based freelance travel writer Jayne Clark has been a travel reporter at USA TODAY and several other daily newspapers.
---