Have a Trainload of Fun in Williams - June 18, 2016
Williams Train Days is Northern Arizona's very own tribute to The Train, the history of rail travel in the Southwest, and all machines that move! On Saturday June 18, the Grand Canyon Railway & Hotel's property will have the look of a railway museum with authentic pieces of rail equipment from past and present on display – historic steam locomotives, workhorse diesel locomotives, track maintenance machines, and more! You can also see rail on the small scale as we will be hosting model railroad enthusiasts and their elaborate, life-like layouts from all over Arizona.
The excitement doesn't stop with trains, though! We'll also be hosting an antique & classic automobile exhibit, featuring those born to be wild masters of the pavement, and a vintage tractor and farm equipment exhibit that the kids will be sure to love! We won't let you get away without learning something either – members of the Williams-Grand Canyon Chapter of the National Railway Historical Society and the Winslow Harvey Girls will be on hand to talk about the history of rail travel and hospitality in the American Southwest.
You're wanted in Williams!
June 18, 2016
9:00am – 5:00pm
The Cataract Creek Rambler Steam Excursion Train
Vintage steam locomotive No. 4960 returns to pull the Cataract Creek Rambler steam excursion train in 2016! The Cataract Creek Rambler is a one-hour round-trip excursion in our classic 1923 Pullman Cars through the pine forest surrounding Williams. It's a true steam experience when you open the windows to smell the smoke and hear the steam whistle as the Train rambles through the Town of Williams to the pines!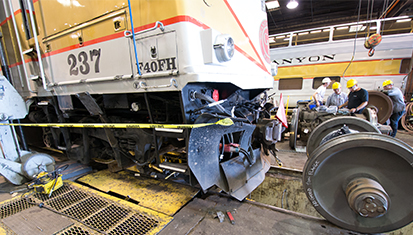 Tour the GCR Locomotive Shop
Grand Canyon Railway is a fully-operational tourist railroad, which means we service all of our locomotives and rolling stock in our own Locomotive Shop! For a donation to the Williams Food Bank, join our Locomotives Manager on a tour inside our full service facility where you can see the one-of-a-kind machines that help us keep our equipment in tip-top shape!