Grand Depot Café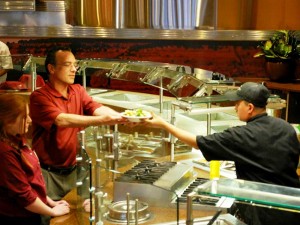 The Grand Depot Café is the perfect start—or end—to your Grand Canyon journey. Located across from the hotel and adjacent to the depot, the 350-seat restaurant serves breakfast, lunch and dinner for Grand Canyon Railway passengers and patrons. Savor the rail atmosphere as a model replica of the train circles the room in the buffet-only restaurant. A full gift shop with Grand Canyon Railway souvenirs is also in the restaurant.
Enjoy a breakfast buffet from 6:30 to 10:00 a.m., and offers a great selection of traditional fare like eggs, omelets and waffles. The lunch buffet is served from 11:00 a.m. to 1:30 p.m. and features an equally broad selection, while the dinner buffet is served from 4:00 p.m. to 9:00 p.m. and includes an expansive and fresh range of American fare, as well as a carving station and pasta bar. Alcoholic beverage service is also available. Most hotel packages include meals at the Grand Depot Café.
Now appearing nightly, David Bixby & Friends will provide live musical entertainment for our dinner buffet guests. Hear train songs, road trip songs, country-western, and even get into the act with Sing Alongs and songs you can dance to.