Experience One of the Great Joys Left in the World of Travel
Whether you're having a corporate function or field trip—or celebrating an anniversary, wedding, or family reunion—Grand Canyon Railway makes it easy to plan your next special occasion or group adventure to the Grand Canyon. Start the adventure aboard our iconic train along a century-old rail line. With five classes of restored passenger service, your group will journey back in time through pine forests and wide-open prairies as musicians play the tunes of the West on this uniquely historic Grand Canyon expedition. Combine the train with a variety of packages that include accommodations in Williams and the canyon, meals, activities and more. Together, you'll experience one of the great joys left in the world of travel!
Items for Download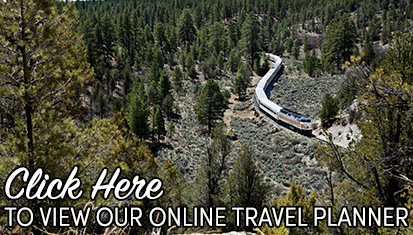 Click here to download 2018 rates, and here to download a quick information sheet.
Click here to access our Dropbox and download high resolution images and other helpful information.
Need meeting or banquet space?
Grand Canyon Railway Hotel has meeting and banquet facilities to accommodate your group. Click here to download the Banquets Menu.
To request more information or a quote, email us: groups@xanterra.com




Why Grand Canyon Railway?
Leave all the driving to us, and make your group trip to the Grand Canyon even more memorable by traveling aboard a vintage train along a century-old rail line.
Group Discounts
For groups of 20 people or 10 paid rooms or more, the Grand Canyon Railway offers a wide variety of rates and discounts, including train travel, accommodations and meals.
School Groups
For school groups of 20 passengers or more, our special discounted rates will allow you to take your students on the train…and on the trip of a lifetime!
An Inside Look at the Conductor's Club
Grand Canyon Railway is pleased to offer The Conductor's Club, a fascinating educational resource for teachers and an exciting learning experience for students. This program allows teachers to introduce their students to the human history of the Grand Canyon by taking them on a journey back in time aboard Grand Canyon Railway.
We also make the journey even more affordable, with up to 35% discounts for students ages 15 and under, and 50% discounts for escorts on Coach Class train fare and free tickets for teachers, as well as specially priced rooms and meals. Learn more about The Conductor's Club by calling 1-800-843-8723 for availability and price quotes.
Conductor's Club will be offered on the following dates in 2017: January 9 – March 10 | April 17 – May 19 | August 14 – November 2.
(Black-out dates may apply.)