Train Equipment
The Grand Canyon Railway Diesel Fleet
Today, Grand Canyon Railway is home to a remarkable collection of America's famed diesel locomotives.
Locomotive No. 2134 is a GP-7 type built in 1953 by the Electro-Motive Division of General Motors Corporation. Engines No. 6773, No. 6793, No. 6776 and B-Units No. 6871 and No. 6860 are all FPA-4, and built by ALCO (American Locomotive Company) in 1959.
The FPA-4 model is utilized for heating cars, and is unique in that it's designed to be longer for holding a steam generator in the back. Originally belonging to the Canadian National Railway, Locomotive 6793 is the last of the series the FPA-4 model locomotives to be built, and was purchased by the Grand Canyon Railway in the 1990s.
Other members of our fleet include Locomotive No. 6773, which began service for Grand Canyon Railway in 1991, No. 6793 (1996), No. 6871 (1998), B Unit No. 6776 (2000), and B Unit No. 6860, which began service for the railway in 2001.
Additionally, Grand Canyon Railway acquired three F-40PH locomotives in February 2003. General Motors Electro Motive Division built Nos. 237 and 239 in 1977 and No. 295 in 1979. Amtrak used the engines through the late 1990s. These engines are currently being restored, and No. 239 entered service for the Grand Canyon Railway's Polar Express in 2004, while No. 295 entered service in February 2009.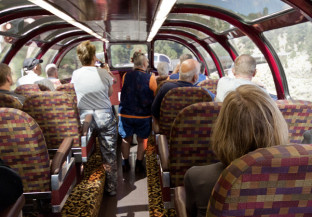 The Grand Canyon Railway's Unique Passenger Cars
Grand Canyon Railway is home to a unique collection of historical railway cars, each with its own story. Grand Canyon Railway works to maintain the original look of the railcars, showcasing rail travel's rich and diverse history.
All of the Railway's cars are equipped with restrooms, staffed by a Passenger Service Attendant, and can be reserved for groups and special events.
Vintage Pullman Cars
Harriman-Style Pullman Cars
Built by The Pullman Palace Car Company in 1923. These cars served their entire career on the San Jose to San Francisco commuter run, before being retired to the Oakland California yards in 1984. While in Storage, the cars became the target of vandals. Windows were broken, seats torn out and fixtures destroyed. What the vandals didn't destroy, the environment did. Salt air from the San Francisco Bay slowly rusted all metal it contacted. As a result, these coaches required a complete rebuilding. Electricians, carpenters, welders, upholsterers and car men worked long hard hours to restore them back to their original state. These cars are 80 feet long and carry 88 Passengers. GCR currently has 13 of these Pullman coaches in service. Although originally heated by steam, Grand Canyon Railway has modified these cars for electric heating, which is more efficient and easier to maintain.
Coach Class Cars
Budd Cars
All of GCR's Budd coaches started out with the Boston & Maine Railway and were called "Highliners."  All began as Rail Diesel Cars, which means that each car had its own power and train's of RDCs could be split and combined at will instead of using a locomotive. They were all converted to their current non-powered coach configuration by 1983 and used in the Metropolitan Boston Transit Authority then the Virginia Rail Express for commuter service out of Washington DC. GCR currently has 12 of these Budd Coaches in service.  Unlike the Pullman Coaches which have windows that open, the Budd class coaches have sealed windows, are climate-controlled, are 85 feet long, and carry 94 passengers.
Cafe Cars
Our Cafe Cars came all the way from the East Coast. Built for the Pennsylvania Railroad by Budd in 1952 as 29-seat parlor cars with 5-seat drawing rooms. Originally named Henry Knox and Johns Hopkins, they were primarily used on the Penn RR's Congressional and Senator trains serving the Boston-Washington DC corridor.
First Class Cars
Buckey O'Neill
This car was delivered to the Southern Railway in 1949 where it served on the so-called "varnish" passenger trains like the Southerner, Tennessean, and the Royal Palm.  When Southern passed its passenger service to Amtrak in 1979, the Buckey O'Neill went on to serve on the Alaska Railroad before coming to GCR. The name on this car honors Grand Canyon Railway's original founder, Buckey O'Neill, who lobbied for many years to get train tracks laid to the Canyon but was killed in the Spanish American war by a sniper while a member of Theodore Roosevelt's Rough Riders. He never lived to see his dream of a railway to the Grand Canyon come true. The Buckey O'Neill  is 78 feet long, carries 50 passengers, and features a full bar.
Arizona & Bright Angel 
Both cars were built by the Budd Manufacturing Company in 1951 as part of a 32 car order and ran with the Pennsylvania Railroad on the Congressional and Senator trains beginning in 1952, then later moved to the Penn Central Railroad. In 1976 Amtrak purchased all but two of the original 32 cars.  Many of the cars were in service with Amtrak until 2001, some on the scenic Adirondack trains serving between New York City and Montreal. GCR acquired these two cars in 2003 and after full restorations in our car shop, they both went into Grand Canyon service in 2004 as first class cars. These cars are both 78 feet long and carry 68 passengers each.
Yavapai & Anasazi

These cars were originally built in 1950 by the Budd Manufacturing Company for use by the Southern Pacific. Anasazi's original name was the Golden Ore and served on the Golden State Limited streamliner. It was sold to Amtrak in 1971, then underwent restoration in the mid-1980s and was sold again to the Santa Fe Southern Railroad in 1996. GCR purchased the car in 1998 and put it into service that year. Both cars are 80 feet long and carry 42 people.
First Class/Observation Dome Cars
Coconino
This car was built in 1954 for the Chicago, Burlington & Quincy, and Northern Pacific Railways by Budd Manufacturing Company. This style of car was called "Vista Dome" when in service for Northern Pacific's run between Chicago and Seattle and were so popular they inspired Oldsmobile to produce a station wagon with a raised window section in the late 1950's called the Vista Cruiser. Amtrak purchased the car in 1971.  GCR purchased it in 1996 and after some refurbishment it went into service in March 1997 as Coconino. Its name comes from a Native American word that means "dry land" or "land of little water." Coconino is 78 feet long and carries 42 First Class passengers downstairs, and 24 Observation Dome passengers upstairs.
Kokopelli
Originally built for the premier train between Chicago and Seattle, the Empire Builder was jointly operated by the Great Northern Railway, the Burlington and the Spokane, Portland & Seattle. When Amtrak took over the nation's remaining passenger routes, this car joined the new system. From 1984-1985 the car was leased to the Alaska Railroad prior to being stored for a number of years before its sale to a private owner.  In May of 2000 GCR leased this car from the Great Northern Dome Company to replace another dome car in service at the time, and renamed Kokopelli after the Native American deity of fertility. Kokopelli is 78 feet long and carries 42 First Class passengers downstairs, and 24 Observation Dome passengers upstairs.
Grand View
This car ran as a Vista Dome on the famed California Zephyr, one of the most popular trains of all time. The car was sold to Amtrak in 1971 then joined the Alaska Railroad in 1984. After changing owners and being leased to various railroads every year from 1986 to 2002, GCR acquired this coach in 2004 and it reentered service as "Grand View." It is 78 feet long and carries 42 First Class passengers downstairs, and 24 Observation Dome Passengers upstairs.
Luxury Dome Car
Fred Harvey
Constructed by the Budd Company for the CB&Q (Chicago, Burlington and Quincy) in 1955, this dome car was named River View. CB&Q operated this luxury streamliner from Chicago to Minneapolis, where the Great Northern Railway took it over for the rest of the journey to Seattle. Amtrak purchased the car and operated it in a variety of services, eventually selling it to the American Orient Express (AOE) in 2001, when it was renamed Copper Canyon.
In 2011 Copper Canyon was purchased by the Grand Canyon Railway and was renamed Fred Harvey. The rail car needed a complete overhaul which lasted one year and used over 8,000 man hours at a cost of $1 million. The Fred Harvey car made its first trip to the Grand Canyon under new ownership in September 2012. The full length dome car joined Grand Canyon Railway's Luxury Class Service as a Luxury Dome Car seating 66 passengers upstairs and open lounge seating down stairs. The car measures 85 ft. long, 12 ft. wide, 16 ft. high and 91 tons.
Luxury Parlor Cars
Santa Fe
The Santa Fe was built in 1948 for the Minneapolis & St. Louis Railroad. Considered the lap of luxury, this 56 seat coach provided patrons of the M&St.L Railroad with modern and extremely comfortable service for its era. The car was acquired in 1956 by the Rock Island Lines where it served until the end of passenger service in 1978. After nearly 10 years in storage, the Santa Fe was sold to Roaring Fork Railway where it was remodeled as a luxury parlor lounge. It was then leased to Copper Canyon Tours, leased again in 2002 to the Acadian Railroad. GCR became the proud owner in 2004, and it reentered service as Santa Fe shortly after. This car is 77 feet long, and now carries 37 passengers.
Max Biegert
This recently refurbished Luxury Parlor car is named after the businessman responsible for reinstating train service from Williams to the Grand Canyon in 1989. It was built in 1954 and originally known as Bonaventure. The car debuted as Max Biegert in September 2006, is 77 feet long and carries 23 passengers. It is also one of our two parlor cars to feature an open air rear platform.
Chief
The Chief was built in 1947 for use on the Atlantic Coast, in service between New York and Miami. It was retired in the early 1980s and sat in storage until it was purchased by a private investor where it was moved to San Antonio and after being refurbished for $250,000, was put into service for the Texas Southern Dinner Train from 1989-1991. After 1991, it served as a dinner car for charter in Mexico until 1993 when it was seized by the Mexican government. After a protracted legal battle the car was returned in 1994 to the US-Mexico border where it was picked up by the Union Pacific for delivery to San Antonio, but the car was lost en route and found later that year in New Orleans. The car was subsequently damaged in a rear end collision on its return to San Antonio and the owner put it into storage before selling it in 1999. The next owner added the observation platform at a cost of $95,000 to cover up the damage caused in the collision, but decided to sell the car prior to completing the restoration. GCR acquired the car in 2002 and put it into service in October of that year as the Chief. It is 76 feet long, carries 37 passengers, and features an open air rear platform.