ENJOY THE JOURNEY THIS SUMMER
The Grand Canyon is no ordinary place, so why experience this natural wonder of the world on an ordinary trip? Make this year's Summer vacation legendary by taking a ride on Grand Canyon Railway! Each of our 6 classes of passenger service lets your family enjoy the journey, and your time together, as the train swiftly carries you from Williams, AZ to the South Rim of Grand Canyon National Park. With flexible vacation package options, exclusive access to lodging inside Grand Canyon National Park, and lodging & dining options in Williams –
Grand Canyon Railway makes it easy to plan a fun-filled day trip or a whole weekend filled with sight-seeing, history, and memories that will last a lifetime!
---
---
2-NIGHT CANYON DISCOVERY PACKAGE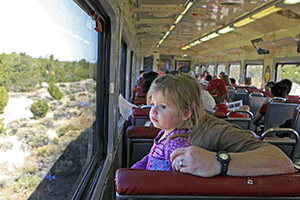 Round trip Train from Williams, AZ to the South Rim of Grand Canyon National Park
Two nights accommodations at The Railway Hotel in Williams, AZ
Breakfast & Dinner buffets for each person in your party
A guided motorcoach tour of the Historic Village at the South Rim & scenic points
STARTING $710 FOR A FAMILY OF FOUR*
3-NIGHT CANYON DISCOVERY PLUS PACKAGE
Everything in the Canyon Discovery Package – plus:
One night accommodations at Maswik Lodge North
inside Grand Canyon National Park!
 STARTING AT $930 FOR A FAMILY OF FOUR*
---
---
SOPHISTICATED ACCOMMODATIONS WAY OUT WEST
Newly refurbished in 2014, our tastefully decorated Deluxe rooms feature two queen beds that have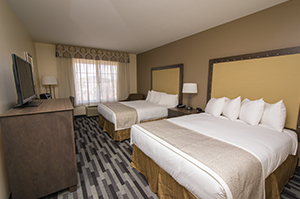 triple-sheeting. These spacious rooms have complimentary wi-fi, 37" flat screen TVs with satellite service featuring Starz, new modern furniture and completely refurbished bathrooms that feature granite counter tops, new tile, and sleek fixtures. Rooms also include Keurig coffee makers, mini-fridges, desks, digital alarm clocks and more. You can upgrade to a Deluxe guest room as a part of any of our Vacation Packages! Click here to see all accommodations at Grand Canyon Railway Hotel.
---
---
MAXIMIZE YOUR EXPERIENCE ON THE TRAIN
OBSERVATION DOME – ADULTS $170.00 | CHILDREN $140.00

Our most popular class of service among adults, the Observation Dome is now available for children to experience upper-level panoramic views. Our young train-riders will be absolutely thrilled with this glass-enclosed streamliner, as they glide through the changing landscape of Grand Canyon—never missing a thing!




PULLMAN CLASS – ADULTS $62.00 | CHILDREN $29.00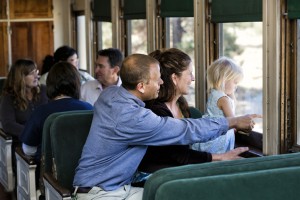 Ride in an original 1923 Harriman style coach car at a great low rate. Built by the world-famous Pullman Company and fully refurbished by the Grand Canyon Railway, these classic cars feature seats that flip so families can face each other, and windows that open to let in the fresh mountain air. A Passenger Service Attendant is available to share the train's history with passengers, and help plan a fantastic Grand Canyon stay. Also, Pullman passengers can venture to the Cafe Car to purchase snacks & beverages to enjoy along the way. Click here to see all 6 classes of passenger service we offer.


Adults Only Seating
We know you've carefully planned for your Grand Canyon vacation.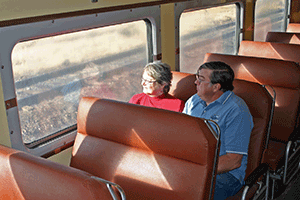 If you're not traveling with children under the age of 16, and would prefer to ride in a passenger car without children present, we will be introducing Adults Only seating in our Coach and First Class cars. For those seeking the more upscale experience, our Luxury Dome and Luxury Parlor cars will remain Adults Only. There is no extra charge, Adults Only seating is available today by calling 1-800-THE-TRAIN, and available online very soon!




---
---
DINNER AND A SHOW

The Grand Depot Cafe now presents live musical entertainment 7 nights a week during our nightly dinner buffet. Whether you've just returned from your Grand Canyon adventure, or are anticipating tomorrow's journey, stop by and take in a live show featuring the tunes of the Old West, Route 66, Train Songs, and even your requests. Dancing with reckless abandon is strongly encouraged!

---
---
The Greenest Train in America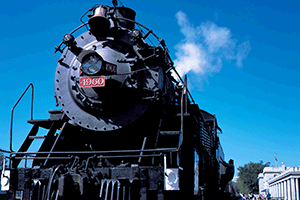 The Grand Canyon Railway celebrates the history of vintage rail travel with regularly scheduled departures pulled by our historic Baldwin steam locomotive No. 4960. Built in 1923 to haul freight in the mid-west, No. 4960 has been refurbished by Grand Canyon Railway to run on recycled Waste Vegetable Oil used in our kitchens to make french fries and fried chicken. No. 4960 will pull the Train on the first Saturday of every Summer month in 2014, May through September. Additionally, No. 4960 will run on September 17 to celebrate our 25th Anniversary.



*All rates are per person and do not include tax or National Park entry fee. Children are age 2 – 15. Package rate is based on adult double occupancy with 2 children in a value room and travel in Pullman Class from 4/11 – 8/16/14. Live entertainment at Grand Depot Cafe is nightly until Polar Express season begins November 7 2014, and will resume in March 2015