Our Guest Rooms
Experience the Luxury of a Bygone Era
Designed to resemble the century-old train depot that housed the original Fray Marcos Hotel—which was opened by the Santa Fe Railroad as a Harvey House—the Grand Canyon Railway Hotel is your ideal choice before embarking for Grand Canyon National Park. Our guest rooms feature triple sheeting, numerous amenities like free WiFi, and offer a choice between standard rooms, deluxe rooms, suites, and of course, the Rail Baron Suite. See for yourself why we were awarded the Certificate of Excellence from Trip Advisor!
Value Rooms
The Value Rooms at Grand Canyon Railway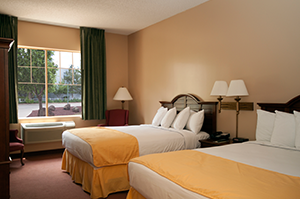 are a great family-friendly combination of comfort and functionality. Say good-bye to bedspreads: Our beds feature freshly laundered triple-sheeting. Each of our spacious rooms are 300+ square feet and features two comfortable queen beds, complimentary wi-fi, satellite TV with Starz, an alarm clock to make sure you don't miss the train, a coffee maker to help start the morning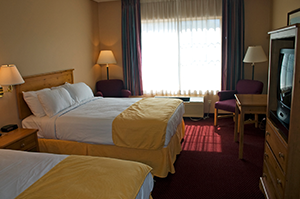 with full steam, and bathroom with bathtub and shower. Roll-away beds and cribs are available upon request, and accessible rooms are also available to our guests with limited mobility.
Standard Rooms
Our Standard rooms feature two triple-sheeted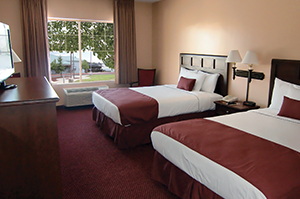 queen beds, flat-screen TVs with satellite, Starz, complimentary wi-fi, and new Thomasville furnishings. The rooms also have a mini-fridge, in-room Keurig coffee maker, telephone, alarm clock, air conditioning, and a full bathroom with granite countertops. Like the Value rooms, the Standard rooms are a spacious 300+ square feet and have been recently renovated.
Deluxe Rooms
Newly refurbished in 2014, our tastefully decorated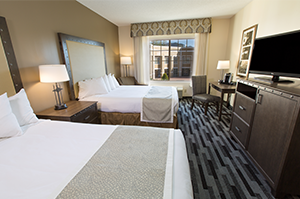 Deluxe rooms feature two queen beds that have triple-sheeting. These spacious rooms have complimentary wi-fi, 37" flat screen TVs with satellite, Starz, new modern furniture and completely refurbished bathrooms that feature granite counter tops, new tile, and sleek fixtures. Rooms also include Keurig coffee makers, mini-fridges, desks, alarm clocks and more.
Suites
Grand Canyon Railway Hotel has 10 Suites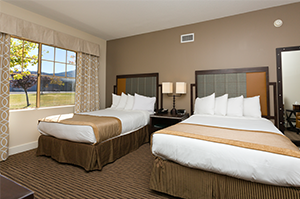 adorned in contemporary decor and furniture featuring a modern style with railroad finishes. Each suite is a lovely 550+ square feet, and has a separate living area with a plush couch and pull-out sleeper, chair and flatscreen TV with satellite, Starz, as well as a kitchenette with microwave, mini-refrigerator, coffee maker, and wet bar. Bedrooms feature two comfortable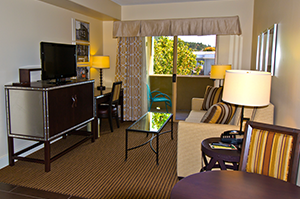 queen beds with triple sheeting, flatscreen TV, full-length mirror, desk, and alarm clock, while a spacious full bathroom with granite counter tops, bathtub and shower also awaits you. To honor the legacy of the Fred Harvey Company, we have named eight of our Suites after the historic lodges at the South Rim, including The Bright Angel LodgeTM Suite, The Thunderbird LodgeTM Suite, The Kachina LodgeTM Suite, The Buckey O'Neill CabinTM Suite, The Red Horse CabinTM Suite, The Phantom RanchTM Suite, The Maswik LodgeTM Suite, and The Yavapai LodgeTM Suite. Each of these named suites contains information and history about its namesake.
The Rail Baron Suite
There is one special room at the Grand Canyon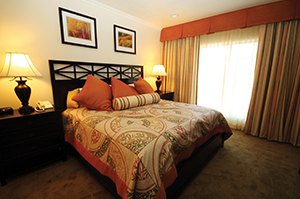 Railway Hotel, reserved for our most exclusive guests. Originally designed for former owners Max & Thelma Biegert, you may not own the railroad, but you'll feel like you did. The luxurious suite is 1,000 square feet and features a spacious living room, full kitchen with granite countertops, stainless steel appliances and breakfast bar, full size dining table, as well as separate bedroom and ensuite. Designed for discriminating tastes,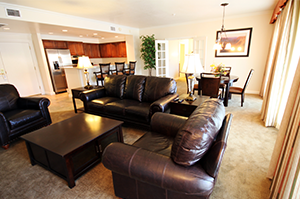 this well-appointed suite is the perfect retreat before embarking for the canyon. Live like a rail baron while you stay at the Grand Canyon Railway Hotel.
Accessible Rooms
We provide a number of accessible rooms at The Railway Hotel. These accessible rooms are equipped with roll-in showers. For additional details, please call Central Reservations at (800) 843-8724.