Grand Canyon Tours
Let Us Be Your Guide on The Ultimate Adventure
277 river miles long, up to 18 miles wide, and an average depth of one mile.
Over 1,500 plant, 355 bird, 89 mammalian, 47 reptile, 9 amphibian, and 17 fish species. A part of the Colorado River basin that has taken over 40 million years to develop.
Rock layers showcasing nearly two billion years of the Earth's geological history.
Truly, the Grand Canyon is one of the most spectacular and biggest sites on Earth. To see as much of it as you possibly can—while learning about the canyon's rich stories, history and wildlife—you may want to take a guided tour. Because with facts and figures this staggeringly impressive, you might have a couple of questions needing answering!
Add an optional tour
Grand Canyon Railway has partnered with some of the best tour providers in the Grand Canyon Region, so you can maximize your South Rim adventure by adding one of these awe-inspiring tours.
Grand Canyon Motorcoach Tours*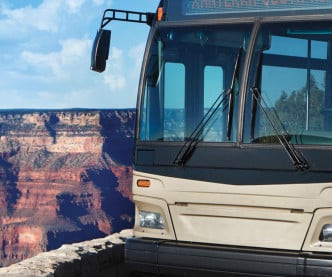 Adults: $35.00 | Children: $23.50
Optional Lunch at Maswik Cafeteria: $12.00 per person
Make the most of your time and see the canyon from different perspectives. Go where automobiles can't—to scenic look-offs reserved for our special Grand Tour. The tour lasts approximately 1.5 hours and is narrated by a knowledgeable guide. They also work in conjunction with the train's schedule, allowing you to get to some of the most recognizable view points along the South Rim that you wouldn't have time to walk to. Choose the South Rim tour alone or combine it with a buffet lunch at the Maswik Cafeteria.
*These exclusive tours are only available to train passengers. Rates do not include tax and are valid through December 31, 2013.
Grand Canyon Helicopter Tour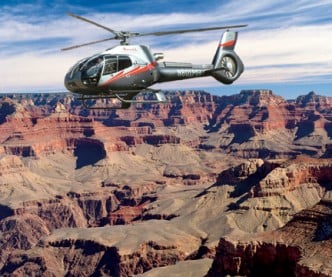 $249 per person
Take a Grand Canyon helicopter tour with the newest and most advanced fleet in the world. Maverick Helicopters offers individual leather seats, VIP-level service, and wraparound glass for outstanding visibility of some of the most beautiful scenery in world. Offering the highest level of safety and service in the industry, Maverick Grand Canyon Tours has over 18 years' experience of making dreams come true!
Inner-Canyon Van Tours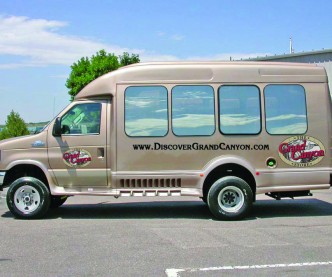 $229 per person (March 1 – October 31, 2013)
$189 per person (November 1 – February 28, 2014)
Ever wonder what it's really like at the bottom of Grand Canyon? This is the only way to get you to the bottom and back again in one day! Reserved for the total adventurer, the Inner-Canyon Van Tour is our most popular add-on. This custom tour descends over 3,500 feet through the Hualapai Indian Reservation into the Inner Gorge to the Colorado River, where you'll have plenty of time for pictures, hiking, and a splash in the Colorado River. Lunch and endless cool water is also included.
Smooth Water Float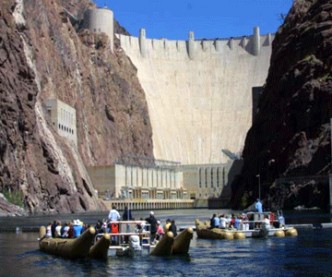 $229 per person (Available March 1 – September 30, 2013)
Take a scenic 15-mile trip down the Colorado River and experience one of the most dramatic stretches of river in the country. The Colorado River Smooth Water Float tour also includes a trip to Antelope Canyon, the most-visited and most-photographed slot canyon in the American Southwest.