Grand Canyon Tours
Let Us Be Your Guide on The Ultimate Adventure
277 river miles long, up to 18 miles wide, and an average depth of one mile.
Over 1,500 plant, 355 bird, 89 mammalian, 47 reptile, 9 amphibian, and 17 fish species. A part of the Colorado River basin that has taken over 40 million years to develop.
Rock layers showcasing nearly two billion years of the Earth's geological history.
Truly, the Grand Canyon is one of the most spectacular and biggest sites on Earth. To see as much of it as you possibly can—while learning about the canyon's rich stories, history and wildlife—you may want to take a guided tour. Because with facts and figures this staggeringly impressive, you might have a couple of questions needing answering!




Add an optional tour
Grand Canyon Railway has partnered with some of the best tour providers in the Grand Canyon Region, so you can maximize your South Rim adventure by adding one of these awe-inspiring tours.
Grand Canyon Motorcoach Tours*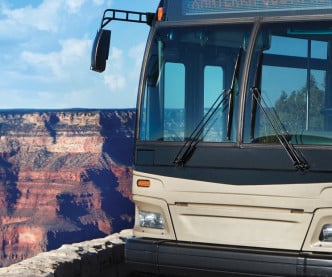 Adults: $37.55 | Children: $25.64
Add a Hot Buffet Lunch at Maswik Cafeteria for an extra fee.
Make the most of your time and see the canyon from different perspectives. Go where automobiles can't—to scenic look-offs reserved for our special Grand Tour. The tour lasts approximately 1.5 hours and is narrated by a knowledgeable guide. They also work in conjunction with the train's schedule, allowing you to get to some of the most recognizable view points along the South Rim that you wouldn't have time to walk to. Choose the South Rim tour alone or combine it with a buffet lunch at the Maswik Cafeteria.
*These exclusive tours are only available to train passengers. Rates are inclusive of sales tax and are valid through December 31, 2016. Rates and taxes are subject to change without notice.
Bearizona Drive-Thru Wildlife Park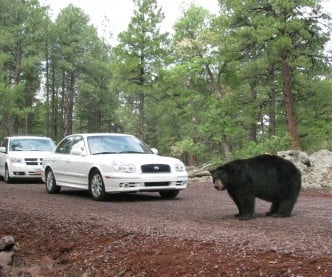 Adults: $22.04 | Children: $11.02
At Bearizona, experience animal wildlife the way it was meant to be - in a natural environment - all from the comfort and safety of your own vehicle. Located in Williams, AZ.
*Rates include tax and are valid through 12/31/2016. Rates and taxes are subject to change without notice.
Grand Canyon Helicopter Tour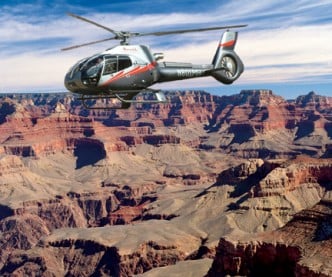 $284 per person
Take a Grand Canyon helicopter tour with the newest and most advanced fleet in the world. Maverick Helicopters offers individual leather seats, VIP-level service, and wraparound glass for outstanding visibility of some of the most beautiful scenery in world. Offering the highest level of safety and service in the industry, Maverick Grand Canyon Tours has over 18 years' experience of making dreams come true!
*Rate does not include tax,  and is valid through 12/31/2017. Rates and taxes are subject to change without notice.
Inner-Canyon Coach Tour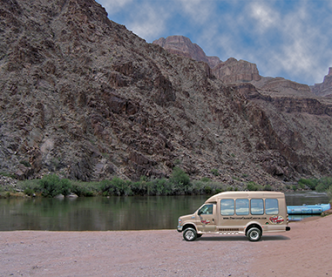 $249 per adult age 16+ | $189 per child ages 5-15

This is the perfect tour for those who have already seen, or are planning a trip to the Rim of Grand Canyon. On the Grand Canyon Custom Tours Inner-Canyon Coach Tour you will travel down into the depths of Grand Canyon arriving at the banks of the Colorado River. As you make your descent 4000 feet through the many layers of rock, your knowledgeable guide will tell you all about the Grand Canyon from the inside. Streams, creeks, foliage, and wildlife such as Big Horn Sheep are just some of the hidden treasures of the Inner Grand Canyon not visible from the Rim. Grand Canyon Custom Tours has specially built their fleet of custom 4x4 coaches to get you to the bottom while offering first class comfort along the way. Each van features comfortable high back adjustable seats, large viewing windows, heated and air conditioned comfort, and a top quality sound system - all resting on a rugged 4x4 suspension. The tour includes a packaged lunch, enjoyed on the banks of the Colorado River. This seasonal tour is an addition to your Grand Canyon experience not to be missed!
Rate includes tax and is valid March 1 through November 30, 2016. Rates and taxes are subject to change without notice.