As an AARP member, you can enjoy great year-round savings when you book with Grand Canyon Railway & Hotel. You'll save 15% off any class of train travel, stays at Grand Canyon Railway Hotel and RV Park, and you can enjoy 15% off the 2-night "Canyon Explorer" package.*
Not an AARP member? Join AARP. Already a member but need to renew? Renew AARP. Learn more about great member benefits at AARP.
Save 50% off your train service when you reserve a 2-night Fall Getaway Package
Limited Time Offer for Travel from September 6 – November 17, 2016*
Fall is a fantastic time to visit the Grand Canyon. Reserve our package with everything you need – vintage train travel, accommodations and meals – at an unbelievable value. But only for a limited time so book today.
The 2-Night Fall Getaway Package
Your package* includes:
Roundtrip train travel from Williams, AZ to the South Rim of the Grand Canyon. Select from one of six classes of service and

save 50% off your train service – in any class of service!

Enjoy onboard entertainment from strolling musicians and cowboy characters along with local lore and knowledge from your Passenger Service Attendant.
Two nights accommodations at the newly refurbished Grand Canyon Railway Hotel, conveniently located next to the historic train depot and a short walk from quaint downtown Williams. The hotel has all newly renovated guest rooms, an indoor hot tub and pool, and Spenser's Pub with it's hand-crafted bar built in the 1800s.
Two buffet breakfasts and two dinners per person at the Railway's Grand Depot Cafe. This isn't your standard chain hotel breakfast bar — this is a full cook-to-order breakfast and dinner buffet. A custom Omelette Station in the morning with a Pasta Bar and Carving Station for dinner.
Reserve Online by Filling Out the Form Above – Select 2 Nights
Or, call 1-800-843-8724 and ask for the Fall Getaway Package.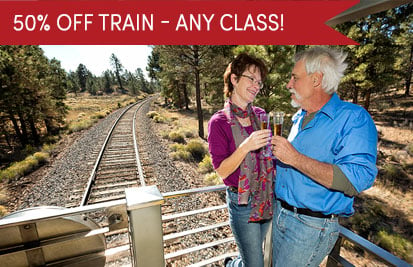 *Valid for travel from 9/6 through 11/17/16 for up to 4 people per reservation, may not be combined with any other offer or discount. Applicable to new reservations only. Not applicable to group reservations. Offer may be rescinded at any time. Based on available train and hotel inventory.
Packages for AARP Members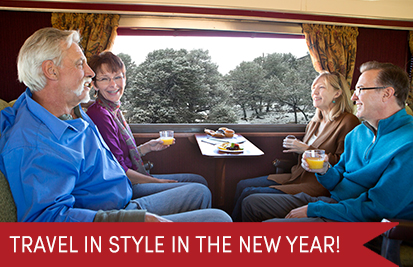 The Canyon Explorer – Save 15%
Enjoy a 2-night getaway to the canyon.
Roundtrip Train transportation in one of our 6 vintage classes of passenger service.
A guided 1.5 hour motorcoach tour of South Rim vista points (lunch on own).
Two nights' accommodations at the Grand Canyon Railway Hotel in Williams.
Two breakfasts and two dinners per person at the Grand Depot Café buffet restaurant in Williams.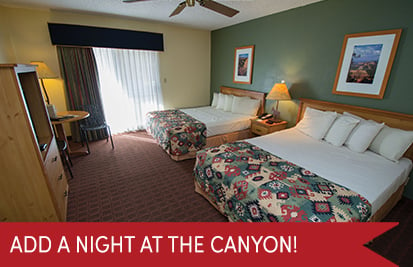 The Canyon Explorer Plus
Enjoy all the elements of the "Canyon Explorer," plus spend more than 24 hours inside Grand Canyon National Park with an overnight stay at Maswik Lodge North, located just 1/4 mile from the canyon's edge and historic Grand Canyon Village. And, when you book through the Railway we often have close-in inventory for hard-to-get rooms in the park.
Select Your Class of Service and Save 15%
These aren't just train cars. They're classics – restored with love – and ready to be proudly shared with you. AARP members save 15% on train travel.
Coach Class: Travel to the canyon in streamlined cars made in the 1950s with big windows and air conditioning in warmer months.
First Class: Spread out with oversized seats, big windows, bar service, and complimentary snacks in the morning and afternoon.
Observation Dome: Ride high above in a streamliner-era dome. Bar service is available with complimentary snacks provided in the morning and afternoon.
Luxury Dome: This is the grandest car in our fleet – a full-length dome up top and a spacious lounge down below with private bar service, exclusive cocktails, and morning and afternoon snacks provided.
Luxury Parlor: Travel like a rail baron in our plush parlor car. Step out on the rear platform and see the landscape from a different and unique perspective. Enjoy a private bar featuring exclusive cocktails, and morning and afternoon snacks provided.
The train departs daily at 9:30 a.m. from the Williams Depot. Call 1-800-THE-TRAIN or book online.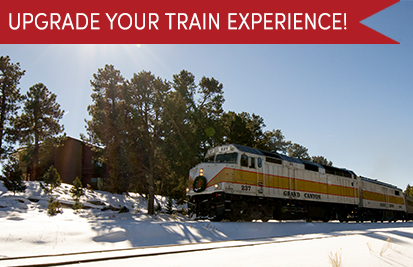 Comfortable & Convenient Accommodations
AARP members save 15% at The Grand Canyon Railway Hotel, located adjacent to the historic Williams Depot and walking distance to downtown Williams and its famed main street – Route 66. Right off the lobby, stop by Spenser's Pub for a beverage with its classic handcrafted bar built in England in the 1800s. The hotel features many room types and most have two queen beds to accommodate parties of all sizes. Packages are available that include nights at the Grand Canyon Railway Hotel. You can also book a package that includes lodging inside Grand Canyon National Park.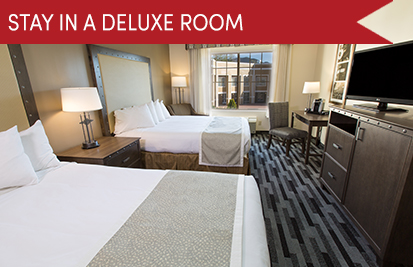 An Entertaining Ride
You know the Grand Canyon Railway is a historic ride on the rails with real, restored locomotives and vintage cars. But did you know there are musicians who roam the train playing the tunes of the west? How about that each car has a Passenger Service Attendant who will share facts about the area and the canyon and help you maximize your time while at the South Rim? And of course, there are cowboys! Each morning before the train leaves, the Cataract Creek Gang and the Marshal square off at the Williams Depot. Then later in the day, don't be surprised if those cowboys are up to their shenanigans… They've been known to try a train robbery or two in their day.
Make a Grand Trip Grander. Book Your Trip Today!

*Rates do not include tax or national park entry fee. Offers valid with new bookings only. AARP member benefit must be requested at time of booking and an AARP membership number must be provided. 

AARP member benefits are provided by third parties, not by AARP and its affiliates. Grand Canyon Railway pays a royalty fee to AARP for the use of its intellectual property. These fees are used for the general purposes of AARP. Provider offers are subject to change and may have restrictions. Please contact Grand Canyon Railway directly for details. AARP discounts do not apply to packages.